Layette
Advice on preparing the layette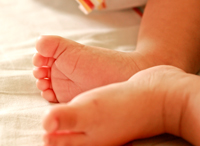 We at Hospital Quirón Teknon encourage mother-child contact from the moment of birth. In order to offer your baby proper care from the moment of its birth, you should follow the recommendations detailed below.
These recommendations include dressing the newborn baby in cotton, batiste or pearl cotton clothing to prevent allergic response, as the baby's skin is very delicate. Any of the following garments should therefore be avoided:
Angora wool clothes (the baby could inhale the hairs of the wool)
Very thick clothes and wools
Any ribbons that could catch around the baby's neck
All clothes should be washed with neutral soap before they are worn for the first time and the labels should be cut off.
For your baby to dress as you wish every day, we recommend that you group together sets of newborn baby clothes by taste and place them in separate bags, one for each day. The bag should include:
A cotton shirt, a cotton romper or bodysuit
An outer set to your liking

A pyjama
A jersey, a romper and socks
A jersey and some trousers
Etc.
The number of sets you prepare will depend on the mother's expected stay at the centre (from 2 to 3 days for normal deliveries and 4 to 5 for caesarean births). The number of loose garments should be increased to six in case the baby soils them. The baby layette should also include:
A towel to wrap the baby at birth to prevent loss of body heat
Two security blankets
A newborn baby cap because the baby loses most heat through its head
A dummy (if you think it necessary)
Bibs
Hospital Quirón Teknon will provide wipes for newborn babies but to avoid possible future allergic reactions or dermatitis, the wipes you will normally use should be included in the baby's bag to rule out any chance of them occurring.
During their stay, Hospital Quirón Teknon applies colognes and creams that suit the skins of newborn babies. If you want to customise your baby's cosmetics, remember to use products that are alcohol-free and specifically designed for the baby's skin. If you do wish any of these products to be used on your child, please inform the nursing team.
The mother should also bring a range of products such as:
Four nightgowns
Two bras
A dressing gown
Cotton panties (at least five)
Slippers
Personal toilet bag
If breastfeeding, nursing pads for breastfeeding should be included. When you return home, we recommend you use a heat mat to apply heat locally for the first week in order to avoid the discomfort of breast turgidity associated with breastfeeding