Thoracic surgery
A comprehensive service for diagnosis and treatment of diseases of the organs of the chest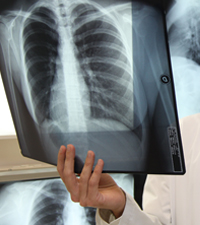 The Thoracic Surgery team's goal at Centro Médico Teknon is to offer a comprehensive service for diagnosis and treatment of diseases of the organs of the chest.
The assessment of possible diseases of the chest routinely includes an appointment with the surgeon which will include a complete medical history, physical examination and conducting additional, necessary tests.
Chest pathology study:
Respiratory diseases associated with tobacco: emphysema with a predominantly bullous component.
Interstitial lung diseases: pulmonary fibrosis.
Inflammatory diseases: cryptogenic organizing pneumonia.
Benign and malignant tumour diseases of the lung.
Benign and malignant tumour diseases of the pleura. Study of pleural effusions (of inflammatory, tumoural or infectious origin).
Pneumothorax, haemothorax, chylothorax.
Benign and malignant mediastinal tumour diseases: anterior mediastinum (thymoma, teratoma, lymphoma, etc), endocrine tumours (goiter, thyroid and parathyroid hyperplasia), posterior mediastinum (neurogenic tumours, mesenchymal tumours, etc).
Infectious mediastinitis.
Benign and malignant tumour diseases of the trachea. Tracheostomy and tracheal stenosis.
Infectious diseases: bronchiectasis, tuberculosis, opportunistic infections (in immunocompromised patients).
Congenital diseases of the chest: pectus excavatum, pectus carinatum.
Disorders of the diaphragm: congenital hernias, paralysis, eventration.
Bruises and fractures of the chest: rib and sternal fractures, lung contusion, pneumomediastinum and haemomediastinum.
Oesophageal pathology.
Severe facial, palmar and axillary hyperhidrosis. Facial flushing.
The portfolio of the thoracic surgery team includes performing the following diagnostic and therapeutic techniques:
Diagnostic and therapeutic thoracentesis.
Thoracoscopy; pleural biopsy.
Thoracic drainage. Chemical pleurodesis.
Videothorascopy as a minimally invasive approach to pulmonary, pleural and mediastinal pathology.
Lung Cancer Surgery.
Pulmonary volume reduction surgery in bullous emphysema.
Mediastinal surgery.
Tracheal surgery.
Surgical repair of Pectus Excavatum (minimally invasive Nuss technique)
Surgery for hyperhidrosis and facial flushing.