Prostate cancer
Instituto Oncológico Teknon Prostate Unit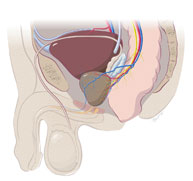 Prostate cancer is the second most frequent cancer in men, particularly those aged over 50 years.The most appropriate weapons for preventing it are early detection through specific tests and multidisciplinary treatment in a centre of renowned excellence.
The Prostate and Genital-Urinary Tumours Unit is one of the most highly specialised areas of Instituto Oncológico Teknon. The Unit provides global treatment in prostate cancer with excellent remission rates among its patients, thanks to the experience of its team of specialists and the use of the latest techniques in diagnosis and treatment, such as high-precision Robotic Radiosurgery.
Instituto Oncológico Teknon has the latest technology and experienced professionals in the use of Robotic Radiosurgery, a precise procedure for treating cancer that requires enormous specialisation. Modern diagnostic imaging techniques such as endorectal magnetic resonance imaging or PET-TC make it possible to detect the exact location and shape of the tumour in 3D. Then the robotised systems, guided by specialists, allow the radiation to be focused in a non-invasive manner without incisions, destroying the tumour with the fewest possible side effects for the patient.
Our patients are our priority and for that reason we put all our experience into maximising the possibilities of remission in each case, with the fewest possible side effects and in a comfortable atmosphere of wellbeing.