Physiotherapy and rehabilitation
Individual treatment units and a multidisciplinary area for conducting group therapy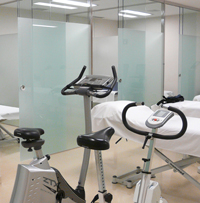 The Rehabilitation Department team consists of a Rehabilitation Physician and the team of Physiotherapists. It has individual treatment units and a multidisciplinary area for conducting group therapy. It applies innovative technologies in the field of rehabilitation, such as thermotherapy and electrotherapy covering a wide range of treatment techniques.
Our goal is to treat painful pathologies or functional limitations and / or disabilities by physical means, both inpatient and outpatient.
The pathologies we treat are:
Osteo-articular

Post-trauma

Recovery from:

fractures
bruises
dislocations
sprains
tendinous section

Post-surgery

Total hip prosthesis
Total knee prosthesis
Ligament plasties
Meniscectomy

Degenerative pathology

Arthrosis
Arthritis
Tendinitis
Shoulder pain

Rheumatic pathology
Fibromyalgia
Pathology of the hand: arthrosis, carpal tunnel, nerve and tendon injuries.

Consequences of Cancer Surgery

Prevention and treatment of post breast-intervention functionalsequelae:
Prevention of lymphoedema
Treatment of lymphoedema: manual lymphatic drainage, pressure therapy pump, prescription of pressure therapy clothing

Spinal Column

Muscle spasms
Cervicalgia
Dorsalgias
Lumbalgias
Disc Hernias
Osteoporosis
Postural alterations
Prevention of vertebral pain: Back school

Respiratory physiotherapy

Emphysema
Bronchopathies
Bronchiectasis

Peripheral nerve lesions

Recovery from brachial plexus lesions
Facial paralysis
Carpal Tunnel

Amputees

Global physiotherapy treatment
Stump conditioning
Prescription and use of the prosthesis

Neurological sequelae
Paediatric physiotherapy:

Congenital Torticollis
Obstetric brachial palsy
Scoliosis
Kyphosis
Disorders of the foot and gait.
Respiratory physiotherapy
Congenital hip dislocation

Pelvic floor muscle re-education.

Female urinary incontinence.
The techniques used to treat these diseases are:
Kinesitherapy
Electrotherapy

Analgesic
Anti-inflamatory

Electrostimulation
Thermotherapy

Ultrasound
Microwave
Laser
Paraffin
Cryotherapy

Spinal traction
Multi-compartment pressure pump
Mechanotherapy