Endoscopic stomach reduction. Primary Obesity Surgery, Endoluminal, (POSE)
A minimally invasive procedure with few associated risks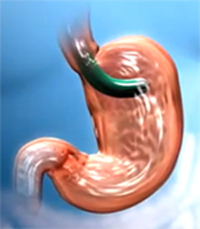 Primary Obesity Surgery, Endoluminal, (POSE) is safe and minimally-invasive endoscopic treatment of obesity that does not require incisions. The operation enables oral reduction of stomach capacity, without the need for incision. In this way, the patient presents prompt satiety and ingests less food. The procedure consists of forming and suturing folds in the stomach to reduce its size and capacity for distension.
Its advantages are:
Reduction of postsurgical pain
Reduced risk of infection
Absence of external scars
Faster recovery
Shorter hospital stays or outpatient surgery
In which cases can it be used?
It is especially recommended in patients with a body mass index (BMI) from 30 to 40 kg/m2 in whom diet treatments have failed.
What are the different phases of the treatment?
After the surgery, the patients is taken to the recovery room for approximately one hour to recover from the anaesthesia before being transferred to his or her room. In our unit, we advise spending another night in the clinic in order to provide the patient with care in case of pain or any surgery-related complication. The patient is discharged the next morning and is able to live a relatively normal life 24 hours after the operation.
For the first month, the patient has to follow a basically liquid diet, graduating to a semi-soft and soft diet until he or she can follow a solid diet six weeks after the surgery. It is not advisable to gain weight in the first two months. Patients are followed up for two years by a multidisciplinary team of nutritionists, a psychiatrist and a psychologist, supervised by a digestive tract specialist.
Weight loss begins after the first week and the mean weight loss achieved in our clinic is 17 kg in the first 6 months and 22.5 kg after a year.
Teknon, world centre of reference in the POSE technique
The Centro Médico Teknon Endoscopy Department is a world centre of reference in the POSE technique and closely collaborated with USGI Medical in its development and improvement. The results of the techniques can be found in recent congresses concerning bariatric, digestive and endoscopic surgery, among others.
In turn, new international specialists are trained in our clinic in the POSE technique and in clinical trials related to it.