Peritoneal Oncological Surgery Unit
Our surgical unit is dedicated to the treatment of advanced abdominal and gynecological cancers, especially those affecting the inner lining of the abdomen called peritoneum. This type of cancer metastatis is often referred to as "peritoneal carcinomatosis".
Peritoneal carcinomatosis is not a uniform condition but rather a specific form of cancer metastasis that occurs when cancer cells spread on the inner lining of the abdomen, called the peritoneum. The cancer types that most commonly cause peritoneal carcinomatosis are cancer of the colon, cancer of the appendix, cancer of the stomach, ovarian cancer and from the same peritoneum (like mesothelioma) but other cancer types can also cause carcinomatosis.
Peritoneal carcinomatosis is difficult to diagnose and treat and generally requires a combination of chemotherapy and surgery for the best chances of success. The surgical procedure designed to treat carcinomatosis is called cytoreductive surgery (also known as the "Sugarbaker procedure") and is usually combined with the application of heated chemotherapy in the abdomen known as HIPEC (heated intraperitoneal chemotherapy).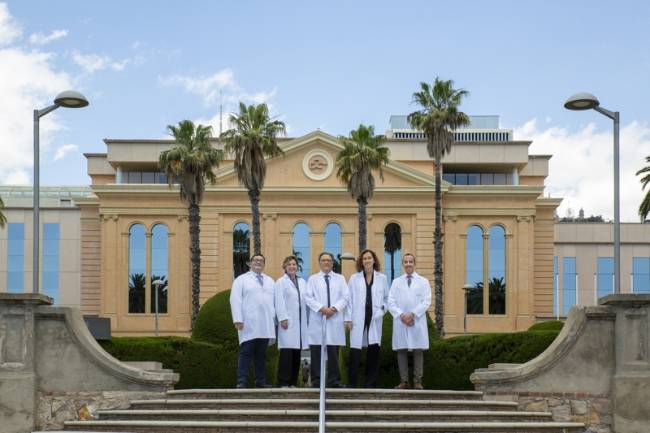 Peritoneal Oncological Surgery Unit Team Teknon Barcelona
Team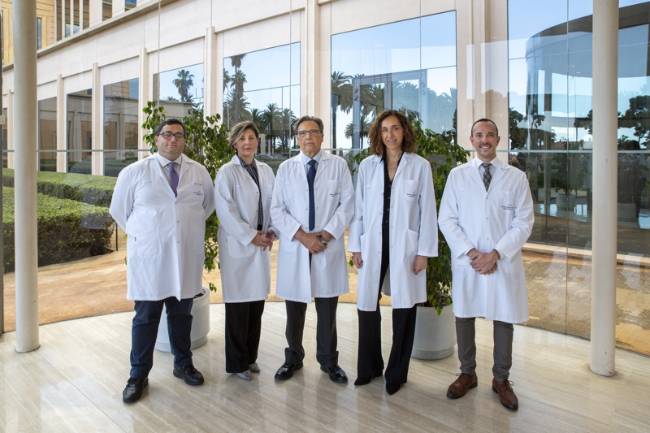 Equipo unidad oncologia peritoneal
Our team is composed of 5 highly experienced and specialized surgeons that have been internationally recognized for their expertise in this area of surgical oncology.
They have dedicated their career to improve the outcomes of patients with carcinomatosis by providing high-quality care that is patient-centered and evidence-based as well as pursuing research to increase knowledge about carcinomatosis. They have performed > 1300 complex surgical procedures combining cytoreductive surgery with HIPEC and are recognized internationally for their outcomes.
Recent scientific articles by our experts
1. Predictors and Outcomes of Surgery in Peritoneal Mesothelioma: an Analysis of 2000 Patients from the National Cancer Database

.
Bijelic L, Darcy K, Stodghill J, Tian C, Cannon T.
Ann Surg Oncol. 2020 Jan 31. doi: 10.1245/s10434-019-08138-5.
2. Comparative study of access routes for Port-A-Cath® implantation.
Pérez Calvo J, Castellví Valls J, Crusellas O, Petrone P.
Cir Esp. 2020 Feb;98(2):79-84
3. Sixteen year-old with leiomyosarcoma in a prior benign myomectomy site.
Vaz JA, Kashi PK, Movahedi-Lankarani S, Piguet NB, Zeligs KP, Bijelic L, Rao UNM, Conrads TP, Maxwell GL, Darcy KM, Garg R.
Gynecol Oncol Rep. 2019 Aug 19;29:126-129
4. Current practice in cytoreductive surgery and HIPEC for metastatic peritoneal disease: Spanish multicentric survey.
Morales-Soriano R, Esteve-Pérez N, Segura-Sampedro JJ, Cascales-Campos P, Barrios P; Spanish Group of Peritoneal Malignancy Surface (GECOP).
Eur J Surg Oncol. 2018 Feb;44(2):228-236.
5. Tratamiento multidisciplinar radical de la carcinomatosis peritoneal de origen colorrectal. Fundamento teórico, desarrollo, resultados y perspectivas futuras.
P. Barrios Sánchez, I. Ramos Bernadó
Monografías de la AEC. Cirugía de la Carcinomatosis Peritoneal. 2018
6. Practice patterns, attitudes, and knowledge among physicians regarding cytoreductive surgery and HIPEC for patients with peritoneal metastases.
Bernaiche T, Emery E, Bijelic L.
Pleura Peritoneum. 2018 Feb 23;3(1):20170025
7. Colorectal carcinoma in the frail surgical patient. Implementation of a Work Area focused on the Complex Surgical Patient improves postoperative outcome.
Castellví Valls J, Borrell Brau N, Bernat MJ, Iglesias P, Reig L, Pascual L, Vendrell M, Santos P, Viso L, Farreres N, Galofre G, Deiros C, Barrios P.
Cir Esp. 2018 Mar;96(3):155-161.
8. Mechanical Reinforced Terminolateral Ileo-Transverse Anastomosis: An Option After Right Hemicolectomy-A 452 Patients Study.
Valls JC, Calvo JP, Álvarez AC, Santín VG, Pons LV, García SM, de Zárate LO, Catasus NF, Jove JM, Trigo VF, Sabia D.
Surg Technol Int. 2018 Jul 5;33. pii: sti33/1024
FAQs
What is the incidence of peritoneal carcinomatosis?
The incidence of peritoneal carcinomatosis varies depending on the cancer type. Approximately 15% of colon cancer patients will develop carcinomatosis but the risk is much higher for ovarian cancer patients: almost 2/3 of all patients diagnosed with ovarian cancer will have cancer spread to the peritoneum. Appendix cancer is another cancer with a very high risk of carcinomatosis with >50% of patients having peritoneal metastases.
What are the symptoms?
Peritoneal carcinomatosis generally does not cause specific symptoms early in the course. For this reasons, it is important for patients who have been diagnosed with cancers that can cause carcinomatosis to have adequate imaging and other tests to evaluate for the possibility of carcinomatosis.. If the cancer on the peritoneum is more advanced it can cause abdominal pain, increasing abdominal girth, intestinal blockage or accumulation of fluid in the abdomen (ascites).
How is it diagnosed?
Peritoneal carcinomatosis can sometimes be difficult to diagnose because cancer cells tend to form multiple small deposits that are sprinkled on the surface of multiple organs. Because each deposit is small, they may not be easily visible on imaging studies. The most common tests used to evaluate and diagnose carcinomatosis are imaging studies including CT scan, MRI and PET scan. Sometimes a small surgical procedure called diagnostic laparoscopy may be recommended to evaluate for the possibility or the extent of carcinomatosis. Evaluating the extent of carcinomatosis helps doctors recommend the optimal treatment and decide whether CRS and HIPEC is possible.
What does the Sugarbaker technique consist of?
The "Sugarbaker procedure" also known as cytoreductive surgery (CRS) and HIPEC is a specialized surgical procedure used to treat carcinomatosis. It is a highly specialized procedure performed by expert teams. During the procedure, the surgeons will remove the affected parts of the peritoneum ( the "inner skin" of the abdomen) together with parts of the affected organs if necessary ( such as a portion of the intestines, the spleen, the uterus and ovaries, the gallbladder etc.) . Since carcinomatosis can affect many organs at the same time, this type of surgery can be extensive and is only performed in specialized centers. Following the surgical removal of all the visible tutor deposits, the surgical team usually applies chemotherapy in the abdominal cavity that is heated to increase the efficacy of the drug.
What is HIPEC?
HIPEC is the application of chemotherapy, heated to approximately 41-42 degrees celsius directly in the abdominal cavity during a surgical procedure. The chemotherapy solution is circulated and heated with the help of a specilized device and closely monitored by the surgical team. The heat helps the chemotherapy be more effective and the application directly in the abdomen achieves a higher concentration of chempotherapy directly on the surfaces of the abdomen where the cancer cells are located while minimizing the amount of drug that circulates throughthe rest of the body.
How is the patient's recovery after the operation? Does the patient have a good quality of life after the intervention?
Patients remain in the hospital following this procedure an average of approximately 10 days but this time can be shorter or longer, depending on the exact extent of the surgery that was needed. The patients are encouraged to stay active and walk daily during their hospital stay. They will also meet with a nutritionist. Patients continue their recovery at home and most will regain their full level of activities and energy at approximately 6-8 weeks. Studies have shown that patients regain a normal or improved quality of life after the procedure.
Are there studies that support the efficacy of HIPEC in the treatment of peritoneal carcinomatosis? What are the average survival rates after applying HIPEC?
CRS and HIPEC has been used and studied for over 20 years with numerous published studies showing its effectiveness and safety. These studies are the basis of national and international guidelines which include CRS and HIPEC as a possible treatement option in appropriate cases. The survival rates after CRS and HIPEC vary depending on the type of cancer that caused the carcinomatosis, the extent of the carcinomatosis, the presence of other metastases outside of the abdomen and the ability of removing all of the cancer deposits during the surgery. In some cases, patients can be cured of the cancer and in other cases the goal can be a prolongation of survival and ability to continue on with non surgical treatments.
Can this technique be applied to all patients diagnosed with peritoneal carcinomatosis?
Not all patients with peritoneal carcinomatosis are candidates for CRS and HIPEC. This decision is made by an experienced peritoneal surgical team in collaboration with a multidisciplinary team of other experts that includes radiologists, pathologists and medical oncologists.
For profesionals
The surgeons of the Teknon peritoneal malignancy team are dedicated to a multidisciplinary approach to cancer care. We aim to facilitate a timely and comprehensive evaluation for every patient and for a continued dialogue and coordinated care with every referring physician.