Rheumatology
The branch of medicine that concerns diseases of the musculoskeletal system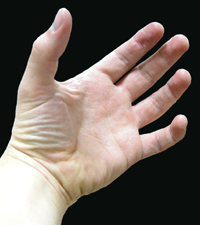 Rheumatology is the branch of medicine that concerns diseases of the musculoskeletal system, i.e., many of those disorders in bones, joints, muscles, ligaments, tendons, nerves and vascular structures produced without previous trauma.
We can classify more than two hundred rheumatic diseases that exist in different groups:
Inflammatory diseases: the paradigm is Rheumatoid Arthritis, and commonly known as rheumatism in the blood, other diseases of this group include ankylosing spondylitis, Lupus or the diseases related to Psoriasis (a skin disease) or Ulcerative Colitis (a disease of the colon).
Degenerative diseases: osteoarthritis, both of the peripheral joints and of the spinal column.
Metabolic diseases, of the bone such as Osteoporosis and of the joints such as Gout.
Soft tissue diseases such as tendinitis, muscle spasms, fibromyalgia, chronic fatigue etc.
Congenital diseases or disorders such as scoliosis, flat feet or high arched feet etc.