Percutaneous surgery
Painless foot surgery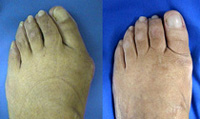 Percutaneous surgery of the foot is a minimally invasive surgical technique that consists of correcting an alteration in the bones and soft tissues of the feet, by means of a small incision measuring two or three mm, instead of the usual six-cm incision used in classic open surgery. This technique is applied in treating bunions, metatarsalgia, Morton's neuroma, heel spur, toe deviations or bunionettes.
In this case, the application of new technologies designed to practice surgery using small incisions allows the patient to leave hospital the same day of the operation, and immediately lead a normal life. Surgery is practiced under local anaesthesia applied to the nerves of the foot that govern the area in question (in the presence of an anaesthetist). The bone structures are therefore identified through a low-radiation image intensifier, or Fluoroscan.
The use of this technique reduces the possibility of complications and scars, and causes less post-surgical pain, since the soft tissues are only minimally traumatised, and the operation requires no pins or screws to maintain the correction. In fact, 95% of patients undergoing surgery say they did not require analgesics after the operation. A gauze bandage is worn during the postoperative period (with no plaster cast being necessary), and special footwear.
Permanent elimination of bunions
A bunion or Hallux Valgus is one of the most common foot complaints.The operation consists of making three tiny incisions of 3mm to eliminate the protruding bone and correct the altered axes of the first metatarsal bone and toe, by means of incorporating wedges into the bone. Thus, during the operation, the direction of the bones is corrected, since if only the protruding bone were eliminated, the bunion would redevelop.
In this case, percutaneous surgery allows the patient to walk out of the hospital after the operation, and gradually resume his/her daily routine at once.The postoperative period requires the patient to wear a small bandage and special footwear for six weeks, but is not painful, since the surgery does not affect the joint or soft tissues. In this way, the use of this technique eliminates the need for rehabilitation.
A fantastic team at your service
The Surgery Unit team of Centro Médico Teknon has wide experience in this field.Our team, which has earned international recognition for the quality of its services, applies minimally-invasive techniques in prognosis, diagnosis and treatment, with the support of the latest technological advances.In this way, postoperative pain and hospitalisation time are reduced, and patients are able to quickly return to their normal lives.
To perform this type of surgery, the medical team must have great experience in this technique.