Ovulation induction
Simple treatment which stimulates the ovulation process so that the ovaries produce and release a mature egg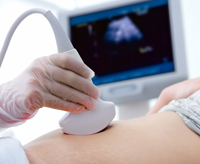 SonogramWhat is ovulation induction?
Ovulation induction is a simple treatment which stimulates the ovulation process so that the ovaries produce and release a mature egg.
In which cases is it advised?
In women with polycystic ovary syndrome
In women with poor ovarian response
As an aid to processes such as Artificial Insemination
What doses of hormones are administered?
The hormone doses administered in these cases are low, since the objective is the maturation of a single egg. But sometimes the ovaries respond by producing more than one mature egg or with Ovarian Hyperstimulation Syndrome. In such cases, we would consider stopping the treatment in order to avoid a multiple pregnancy.
And what happens once ovulation has been stimulated?
Once ovulation has been stimulated, since we will know when it is going to occur, you should plan to have intercourse or, if Artificial Insemination is to be used, this will be scheduled.
Ovulation is also stimulated in the In Vitro Fertilisation treatment, but in such cases the aim is to produce a large number of mature eggs to improve the options for artificial insemination, so the dosage of hormones is higher and combined with other types of drugs specific for this purpose.